Profile
The world famous resource of blue waters of Arabian sea. Excellent exposure to every aspects of marine export trade. Plus, an uncompromising desire to deliver world class quality. These factors, in a nutshell describe Premier Exports International, the company which is now in the forefront of marine exports from Kerala, on the west coast of India.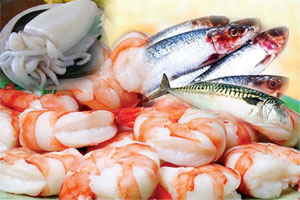 Located at a vital geographical hub of marine wealth- close to Cochin city, Premier Exports International has gown by leaps and bounds over the past two decades. Effectively amassing the potential of seafood trade from this vantage point, Premier Exports International is now an exporter with a reputation for excellence and dependability. No wonder, today Premier Exports International has a host of clientele with them from all corners of the globe.
Consistently employing new technology and world call manufacturing methods, the company is an EU approved seafood processing house. HACCP certification further underlined the company's drive towards world class quality standards. As a result of such initiatives, Premier Exports International brands- 'Prime', 'Premier' and ' Primus' are winning markets in Japan, Europe and USA. Recently, the company has registered good success in Gulf & China markets too.
Company
Inspired by the excellent success of Premier Exports International the group has evolved strategies to tap the new market in the new global scenario. This is another example of guiding principle innovating and changing with the times. True to this effect, the group has floated the new venture - Premier Marine foods- to blood the new generation of the group into the marine exports trade. hardcore professionals, armed with excellent training and exposure, they are guided by the founding partners of the group.
This also underlines the corporate policy of introducing the younger generation to the forefront of activity through rank and file, equipped with all expertise. Premier Marine foods foresees itself as a 'New Era Company' with new goals and the same spirit- commitment at every point and quality at all costs. Premier marine Foods has established its presence in European markets in a short span of time and is spreading its wings to markets worldwide.